The Right To Be Left Alone By Recruiters
Die deutschsprachige Version dieses Artikels findet sich bei ⟶ medienrot.
Recently someone on Twitter shared a list of over 1.000 Slack communities with his 4.700 mostly HR-focussed followers.
Many in the recruitment business would call that striking gold since these communities contain millions of people (read: future hires commission) neatly sorted by industry, profession, country, sometimes even gender or sexual orientation.
And while the part of me that recruits people was eager to sift through the list, another part was cautious. Do these people want to be approached by a recruiter? Is there something like a "right to be left alone by recruiters"?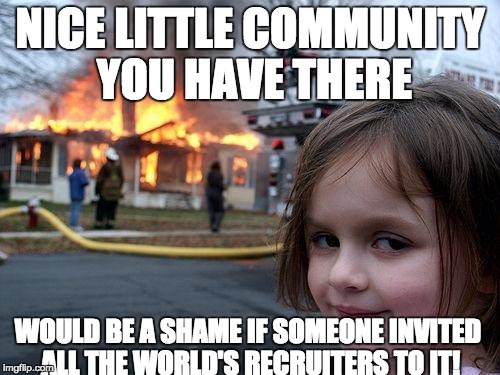 The tech industry is probably most affected by the boom of the recruitment agencies. Not a surprise then that the posts by software developers complaining about misconduct, lack of professionalism, and outright stalking by the industry's black sheep are aplenty:
And there are recruiters like ⟶ Ionut Roghina, who give the inside perspective on why the industry is where it is: What's the Deal with IT Recruitment Agencies?
No wonder the counter measures developers take are becoming less and less polite:
But there is also the technology side of technology recruitment: Not a day goes by without a new "find anyone's hidden email address"-service. Websites that gather email conventions of corporates so you only need to enter the persons name and you'll get their [email protected] to conveniently stalk, spam, and bother them until they delete their LinkedIn profiles or their boss finds out. Browser plugins that deliver you all the social media accounts of a person you just found LinkedIn aren't even something special. And I get it, the hunters instinct needs this.
And companies aren't necessarily better off. Not a day goes by without a recruiter from Dublin on London calling or emailing me a version of "I trust you're busy so let me keep this short". Without the slightest idea of our hiring needs let alone our tech stack they send my profiles of "some great candidates I'm currently working with". The emails usually contain a footer reading "By receiving this email you agree to our terms of service" like contracts worked this way.
Recruiters have actually lied their way past our switchboard to be connected to the developers. Five minutes later, weirded-out by the experience came to me and complained - while I had the same recruiter on the line trying to sell me the replacement.
I wonder whether the business model to hire 21y/o graduates, make them stalk people online, and sell them to the highest bidder for a fee is sustainable.
Let's hope it's not.
Subscribe to Sebastian Dietrich
Get the latest posts delivered right to your inbox